Beaches
The Warmth Of The Sun
Just around the corner: White Sand Beach - one of the best beaches in Bali
Paradise unspoiled
Compared to the busy tourist area's of Bali, Candidasa's beaches are relatively small, as past history destroyed part of the offshore reefs, causing a lot of the beach sand to disappear through erosion. But in the Samuh area, there still is a lot of of unspoiled sandy beach to enjoy. Snorkeling can be quite good, especially at low tide.
There are also very good beach/snorkeling spots within 20 minutes of CD, at Blue Lagoon, Padang Bai and Amed. Our absolute favourite: 5 km north east of Candidasa is Pasir Putih (White Sand Beach), one of East Bali's well-kept secrets. It's a 500 m long, isolated, beautiful, white sand beach fringed with coconut palms. There are a few warungs (small shops) who rent sunbeds and umbrellas.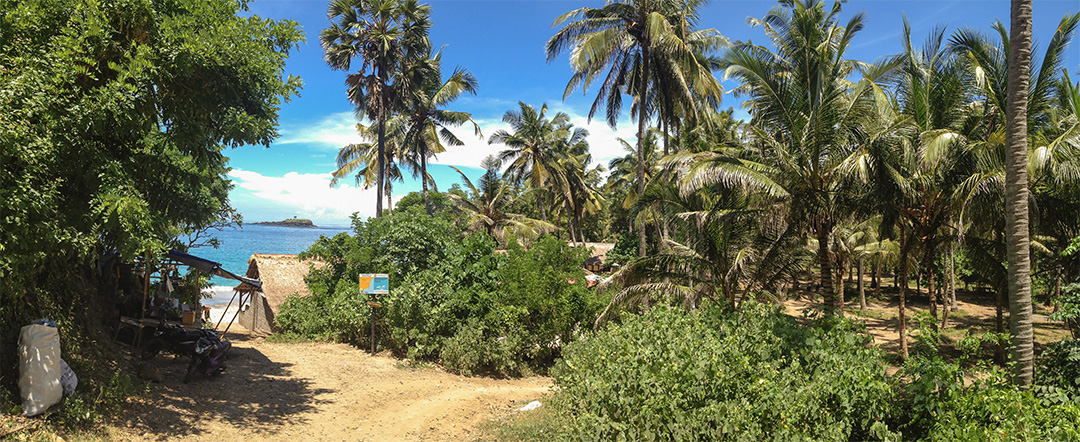 Tropical Paradise: entrance to White Sand Beach
Our villa is in the Samuh area of Candidasa, the northern part of the village. It has the best beaches. Fishermen at the beach will be glad to take you out for a fishing or snorkling trip or sell you some fresh fish.
Samuh also has the best villa's and resorts, such as nearby Puri Bagus. Nearly all of them have nice swimming pools. All resorts welcome visitors. They'll be happy to serve you with drinks, a meal or chairs and towels if you want to enjoy their pools or beaches.